Offshore Patrol Vessel (OPV)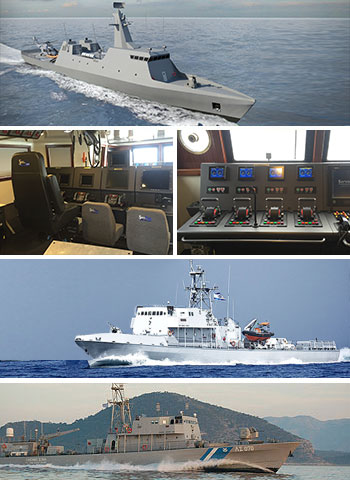 In the 1990s, Israel Shipyards used the naval architecture of the Nirit Class
SAAR 4.5
as a base design to produce a special OPV, loaded with the firepower of larger Naval vessels - for less cost.
This sleek OPV is equipped with highly advanced weapons systems, produced by world-recognized Israeli designers.
Becoming one of the best-known ISL vessels, the SAAR 4.5-based OPV was chosen to secure the extensive waterways around Greece during the 2004 World Olympics. One of its many advantages is a weapon-carrying capacity equal to larger, more costly vessels.
The seagoing power of the Israel Shipyards OPV was further enhanced with optional helicopter carrying capability. This innovation has proven itself in the deployment of rapid-response units to security incidents occurring at sea, in all weather conditions.
OPV Highlights
Based on our SAAR 4.5 Missile Corvette design.
Weapon-carrying capacity equal to much larger vessels.
Performs a wide range of coastal defense, security and law-enforcement missions:
Open sea patrol and surveillance
Interception of terrorist, smuggling or illegal activities
Protection of off-shore facilities
Fishing restriction control
Support of boarding, landing and intervention forces
Search & Rescue operations
Anti-pollution and environmental monitoring
Participation in naval combat operations.
Launch and recovery of light marine helicopters
Purchase of an OPV from Israel Shipyards includes crew training, maintenance training and guide books, maintenance support, documentation and operating instructions.
Click to enlarge: