Company Profile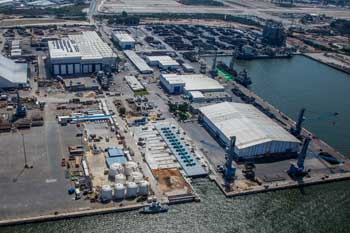 Since 1959, Israel Shipyards Ltd has been providing seaworthy solutions for the Naval and commercial marine markets.
Israel Shipyards is the preferred address for all challenges in shipbuilding:
Ship Design, Ship Repair
Purchase & renovation of vessels
Project management & execution
Customer training
After-sales service
Technical and logistical support
Besides shipbuilding, the plant of Israel Shipyards - covering 330,000 sq. meters with 45,000 sq. meters of under-roof facilities - offers a full range of manufacturing possibilities for ship-to-shore and land-based structures.
Expert craftsmanship is evident throughout the life of every ISL vessel or sea platform:
Smart design & construction
Comprehensive testing
Strict quality assurance
Long-term service
In addition, Israel Shipyards operates a 3000tlc Syncrolift in Haifa Bay, where our team provides a wide variety of services to both Naval and Commercial vessels.
Israel Shipyards professionals draw on the experience of our company that goes back more than 60 years, building a reputation for excellence on four continents.